The small Unitarian Church is an ideal venue for the close bond that Robyn Hitchcock has with his devoted followers, he was playing the second of two long ago sold-out shows, with the promise of a completely different setlist for each evening.
Support Jessica Lee Morgan sings her own compositions with acoustic guitar and some jazzy bass. She has a warm and versatile voice; opener 'Texas Angel' shows shades of Joni Mitchell while 'I Am Not' is a bold alt-country statement of independence. 'Nobody Knows' is a short sharp up-tempo bluesy number and then back to the country stylings and catchy chorus of 'Waiting To Leave'. 'The Less Said The Better' was co-written with Jessica's mother, singer Mary Hopkin, then she managed to get the normally reserved Cambridge audience to sing along to set-closer 'This Is My Love Song To You', leaving a real feel-good atmosphere in the church.
Robyn Hitchcock draws on his substantial back catalogue and his attachment to Cambridge for his set (most recent album not featuring at all?), opening with his original band Soft Boys song 'Tonight', probably written he says across the road on Midsummer Common in 1979.
The songs work with just his acoustic guitar accompanying; often using quite a complex instrumentation. With a warning that a throat infection may render his voice a bit more "Leonard Cohen" than usual he launched into the excellent 'My Wife And My Dead Wife' with its multitude of twisting lyrical rhymes ('..my dead wife's upstairs, she's still wearing flares…') and a macabre but irresistible chorus.
The surreal words stay in dark territory for 'Sinister But She's Happy' but how can you not raise a wry smile to the line '…like a chandelier festooned with leeches…' and so many others.
With its pop laced with psychedelia 'Beautiful Girl' would have sat nicely at the top of the charts in the late 60s, while 'I'm Only You' is another tour de force of lyrical imagery (…I'm a liquid you're dissolving in…') and then a cover of Syd Barrett's 'Octopus' fits in well.
Being a church venue, you could expect to find a piano, so Robyn moved across to the Steinway upright for a trio of ballads ending with 'I Used To Love You' with local references galore '…the police station is still on Parkers Piece, it hasn't drifted and nor have the police…'.
Local guitarist and original musical collaborator Kimberley Rew stepped up to add some spiky electric guitar colours to four more songs, including the timeless political frustrations of 'I Wanna Destroy You' and a moving cover of alternative national anthem 'Waterloo Sunset' bringing this brilliant show to an end.
http://www.robynhitchcock.com/
http://www.jessicaleemorgan.com/
http://www.greenmind.co.uk/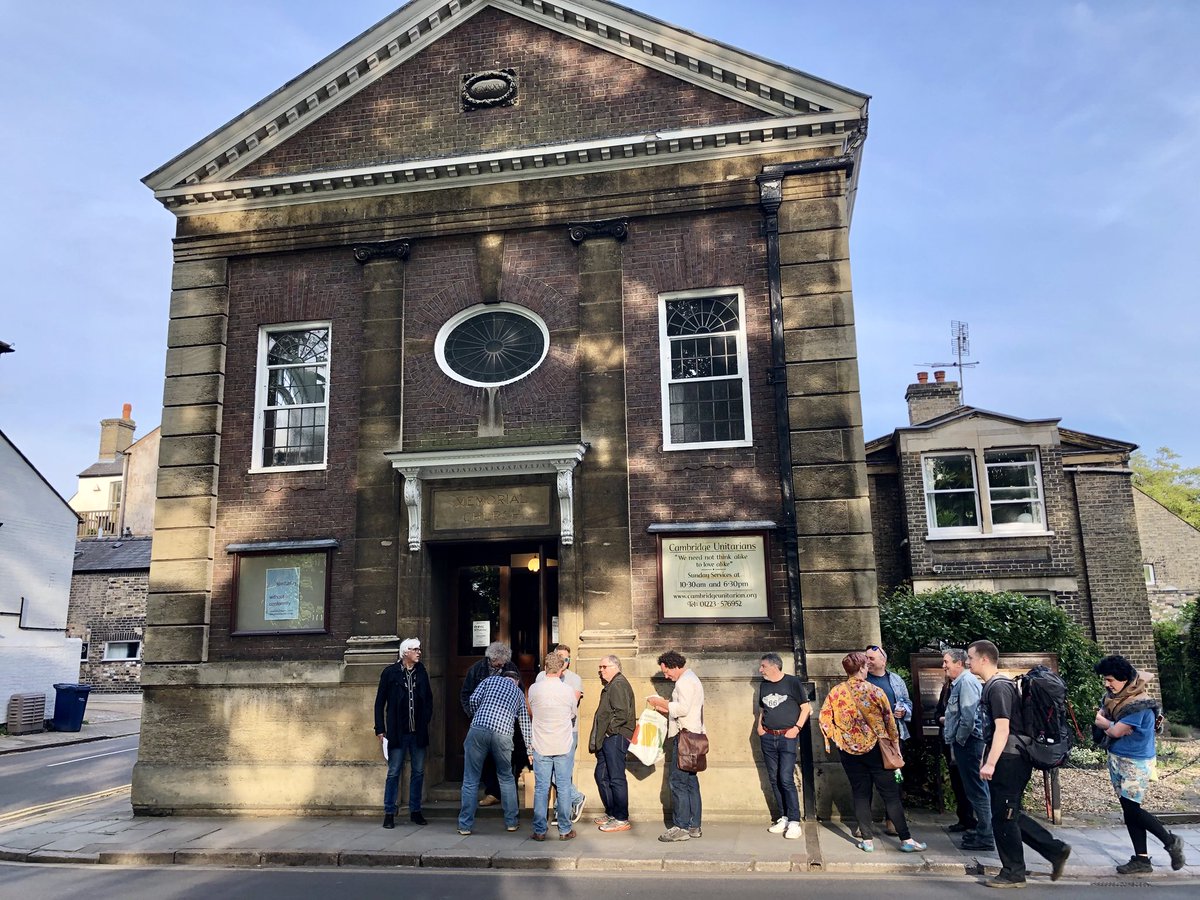 Robyn and early arrivals outside the venue (photo by http://www.karenfranceseng.com)