Elma : Send Love This Christmas
From the introductory guitar footsteps in the snow and sleigh-bell beat there is no mistaking the intention of this gorgeous seasonal offering from Elma. Rhiannon's pure and natural voice sets the scene '….it's gonna feel strange to celebrate this year…. but I still think we should…'. and we soon get to the perfectly judged hookline '….send love this Christmas…it isn't hard to do….and love will come right on back to you…'. Mark adds layers of ringing guitar lines and backing vocals to an uncluttered, retro and timeless mix. There is a winning middle-eight and by the end the duo have proved once again that their melodic command, vocal delivery and pop song construction is impeccable.

Jo Ash : Paper Cards
Jo Ash has created an atmospheric song drawing on images of lost battlefields, forgotten heroes and lingering memories. In her emotional tale of farewells she uses echoing, repeating piano figures and orchestral synthesisers to generate a tense, dramatic backing to her soaring vocals.
Lyrically and musically evoking a dark season, '…..look up to the diamond sky…..a blanket of a million miles….encompassing you and I….', but there is still hope '….I'll never be too far from home….'. Finally there is reflection '….. I hear the words he said to me as I recall those winter nights…..as we made paper cards around the tree, and sang Silent Night….'.
So ideally sat in front of the fire with mulled wine in hand; slow down, hibernate and listen to this affecting track, contemplating the unchanging rhythms of the winter solstice.
Paper Cards | Jo Ash (bandcamp.com)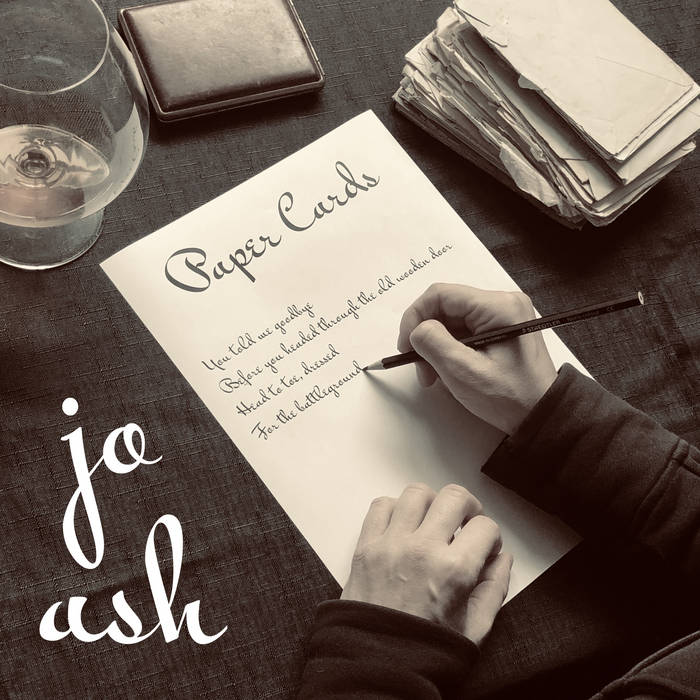 The Eli Lillies : Christmas is the Season of Love
A fun song with a serious message from singer/songwriter Louise Eatock, who usually performs in the indie-folk band Flaming June and now releases this single as a one-off with group The Eli Lillies.
The profits are going to mental health charities and the essence of the lyric is clear in an effort to remove the stigma of necessary treatment ; '…..'cause with the right medication…Christmas can be such a fun celebration…'.
Louise can always turn a neat phrase in her compositions and '……Christmas can be fun and I will show you how…so take a mood stabilizer for your breakfast….and an anti-anxiety tablet for tea……pop an anti-depressant when you open your presents….' pulls no punches with a great balance of humour too. Musically it is a real treat, a sort of vigorous folk/punk mix up with crashing noise suddenly giving way to sleigh bells and 60s harmonies. Enjoy the celebratory energy of the video too!
Christmas is the Season of Love | The Eli Lillies (bandcamp.com)